'Illegal workers' held at Frankie Dettori's restaurants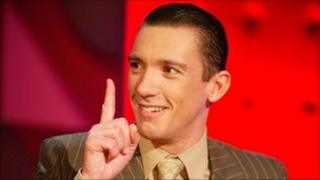 Seven men have been arrested on suspicion of working illegally at two restaurants which are part-owned by jockey Frankie Dettori.
Officers from the UK Border Agency raided the Knightsbridge branch of Frankie's on 25 November and the branch in Chiswick on Friday.
The men are suspected of using counterfeit documents to get work.
The Frankie's chain was created by Mr Dettori and the celebrity chef Marco Pierre White.
No-one from the firm - which also has branches in Stamford Bridge, Dublin and Dubai - was available to comment.
Deportation threat
The UK Border Agency said it had raided the restaurants after receiving a tip off.
Immigration officials arrested two Ecuadorians and one Albanian during the raid at the Knightsbridge branch in Yeoman's Row in November.
Three Brazilians and one Algerian were arrested in the second raid at Frankie's Braganza in Chiswick High Road.
If it is proven that they were working illegally they face deportation.
Employers face a £10,000 fine per illegal worker if they are unable to prove they carried out legal checks.