Hundreds swim in Hampstead Heath's freezing waters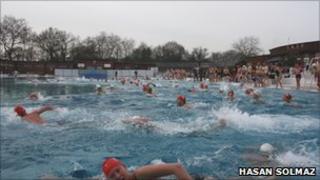 More than 200 fearless bathers have taken a swim in the near-freezing waters of Parliament Hill lido.
With snow still lining Hampstead Heath, north London, members of the Outdoor Swimming Society took the plunge in the 0.1 degree depths of the pool.
Swimmers with heart problems were told not to take part and a defibrillator was on hand in case of difficulties.
But there were no casualties as bathers aged 14 to 70 enjoyed the "exhilarating" experience.
Kate Rew, 41, founder of the Outdoor Swimming Society, said: "It feels alarming when you hit the water.
"It bites your hands and feet off.
"There was lots of gasping all round - but we all felt amazingly exhilarated afterwards."
'Plonk in and hope'
The swimmers went across the 30m lake and back before recuperating with hot drinks.
Ms Rew continued: "By the time you are on the other side you can feel your vital organs beginning to shut down.
"You start moving very slowly.
"You could definitely have a heart attack, if you were that way inclined."
She added: "You just plonk in and hope for the best."