Trafalgar Square Christmas tree lights switched on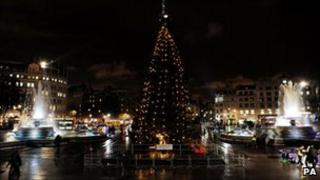 The lights on the famous Christmas tree in Trafalgar Square have been turned on.
Since 1947 the pine tree in central London has been a gift from the people of Norway in recognition of Britain's support during World War II.
The Norwegian Spruce was selected from a forest near Oslo in November and was then shipped across the North Sea.
The 66ft (20m) tree is more than 100 years old and is decorated with 500 lights using halogen bulbs.
Poetry recited
The ceremony to mark the turning on of the lights was attended by the Norwegian Ambassador Kim Traavik, the Governing Mayor of Oslo, Stian Berger Røsland and Lord Mayor of Westminster, councillor Judith Warner.
Ms Warner said: "I would like to thank the people of Oslo for this splendid tree, a tradition which I know has come to represent the start of the Christmas season for many people across London."
The ceremony included music, speeches, carol singing and poetry recited by local Westminster school children.
The lights will remain on until 5 January after which the tree will be recycled.