G20 protest doctor Freddy Patel's charge legal 'abuse'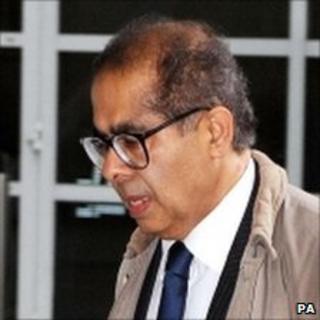 A pathologist who examined a man who died in the G20 protests should not face a separate charge as it would be an abuse of process, his lawyer said.
Dr Freddy Patel examined Ian Tomlinson, who was pushed over by a policeman. Dr Patel was suspended for three months after concerns over the autopsy.
The General Medical Council is now deciding if he made a separate autopsy ruling without "proper consideration".
Dr Patel also faces another allegation, that he falsified his CV.
The separate autopsy ruling relates to the 2002 death of a prostitute, known as Mrs E.
Police discovered her in a flat, naked apart from a towel, with blood on the wall.
In his autopsy, Dr Patel noted she had facial bruising around her nose and a bite mark on her leg.
She had a split to her liver and blood loss.
Dr Patel found she had died during consensual sex and attempts to resuscitate her had failed.
It is alleged Dr Patel did not consider appropriately whether she had been asphyxiated in a non-obvious way.
But the pathologist's counsel, Adrian Hopkins QC, argued the panel had already ruled on the case in July this year and the matter should therefore not be considered again.
He claimed the allegations were "almost identical" to charges earlier ruled upon by the panel.
Mr Hopkins said: "The substance of the case against Dr Patel is the same.
"It is no good simply to tweak the wording to make the same criticism.
"We say these changes are changes of style not of substance and we have to look at substance."
Mr Hopkins added the length of time that had passed since the death meant evidence had been lost, and Dr Patel had been unable to respond fully.
The panel has the authority to ban Dr Patel from practising.
The hearing continues.
An inquest into the death of Mr Tomlinson, a newspaper seller, will begin next year.
Dr Patel's examination concluded that he died of natural causes linked to coronary artery disease.
But two other pathologists later separately concluded that Mr Tomlinson died of internal bleeding as a result of blunt force trauma, in combination with cirrhosis of the liver, after the G20 protests on 1 April 2009.
No charges have been brought against Pc Simon Harwood, the officer who pushed Mr Tomlinson and appeared to strike him with a baton on mobile phone footage then posted on the internet.