Boris Johnson to gain new powers under Localism Bill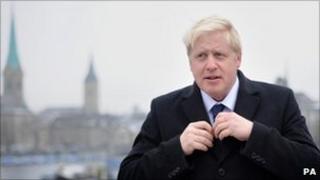 Mayor of London Boris Johnson is to get new powers if an act is passed - but he would be more closely scrutinised.
The Localism Bill will give Mr Johnson a greater say on housing and the way European funding is spent.
He will also be able to create Mayoral Development Corporations to "focus regeneration where it's needed most".
But the mayor will be scrutinised more closely by the London Assembly, which would be able to reject policies with a two thirds majority.
At the moment the London Assembly can only amend the budget with the same majority.
Communities Secretary Eric Pickles announced the development in a written statement to MPs.
He said: "These reforms will drive decision-making back into the hands of the mayor and locally-elected London leaders, streamlining the way London is run and paving the way for further devolution to London boroughs."
The 32 boroughs will get more control over local planning decisions.
Mr Johnson will be limited to the largest planning applications.
A spokeswoman for the Mayor of London said: "With these new powers we have the opportunity to streamline housing strategy to ensure we can continue delivering affordable homes for Londoners.
"Furthermore, it simplifies delivery of the vital regeneration activities in the east of London."
The act would also require the Metropolitan Police Authority, Transport for London and the London Fire and Emergency Planning Authority to publish any spends over £500.
The Labour Party is yet to comment on the proposed changes.