Ali Dizaei witness identity questioned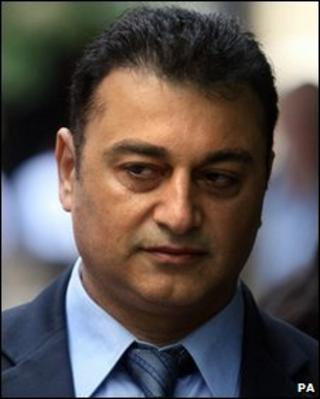 Doubts have emerged about the key prosecution witness at the trial of the former Metropolitan Police Commander Ali Dizaei.
Dizaei, 48, was sentenced to four years in jail in February for misconduct and perverting the course of justice.
He was found guilty of attacking and falsely arresting Waad al-Baghdadi.
But a series of documents seen by BBC News have alleged Mr al-Baghdadi, said to be from Iraq, used a false name and nationality when he appeared in court.
Mr Dizaei's 24-year police career ended in disgrace when he was jailed for wrongfully detaining the businessman after a row outside a Persian restaurant in Kensington, west London.
However, the documents suggest Mr al-Baghdadi's real name is Vaed Maleki and that he was born in Tehran, Iran, in 1983.
This contradicts statements Mr al-Baghdadi gave to the Independent Police Complaints Commission and evidence he gave under oath in court.
The information was confirmed by an Iranian man who said he was Mr al-Baghdadi's relative.
The BBC attempted to contact Mr al-Baghdadi but he did not reply to calls and could not be traced.
The Independent Police Complaints Commission (IPCC) said it was shown a "variety of official documentation" to prove Mr al-Baghdadi was who he said he was.
Mr Dizaei is due at the Court of Appeal in London on Wednesday, seeking permission to appeal against his conviction.
He believes he has grounds to prove his trial was unfair and his jail term was too harsh.
In June a senior judge sitting alone ruled he had no grounds for an appeal, but Mr Dizaei hopes to challenge this decision.
Meanwhile, Kourosh Dizaei, the youngest of Dizaei's three sons, said the "injustice" would be exposed on Wednesday.
But he added supporters must "expect the worst" even though Dizaei "is and always has been in the right" as "we cannot always expect what is due".
Writing on his website, he said: "On December 1, justice will finally prevail and Ali Dizaei will walk among us with his deservedly untarnished name."