'Lost' cousin of WWII hero pilot traced to south London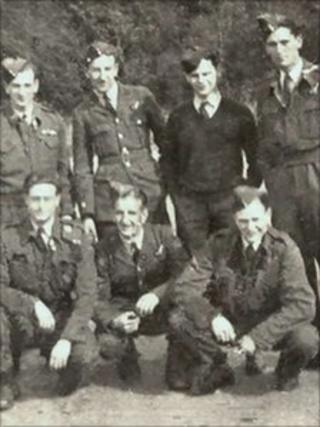 The cousin of a World War II RAF pilot has been traced to south London after an appeal to find his relatives.
German authorities had hoped the family of Sgt Frederick Wall would attend a memorial at the site in Germany where the 29-year-old was shot down in 1945.
His cousin, Alice Perkins, who is 96 and lives in Sutton, was found after the service but said she was "touched" to hear he had been honoured.
Seven members of Air Force Volunteer Reserve Unit 514 Squadron were killed.
Newspapers at the time reported a daylight attack on the Wintershall oil refinery north-west of Munster, Germany.
But their plane crashed in Salzbergen and the crew were temporarily buried nearby.
Their bodies were then moved to the British Reichswald War Cemetery near Kleve.
When German officials decided to create a memorial at the crash site, they were unable to track down any surviving relatives of Sgt Wall.
His parents, Albert and Kate, had lived in Carshalton, south London, but were no longer alive.
The authorities contacted the local authority there, Sutton Council, and it launched a media appeal for information.
The memorial to the events of 6 March 1945 was unveiled in Germany earlier this month.
"I was touched to hear they were honoured in such a way," said Mrs Perkins.
"I remember clearly being with Fred at a party shortly before his last flight and he mentioned that he 'better enjoy himself as it might be his last chance'."