Warning to children over student fees protest in London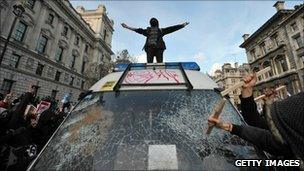 Parents of children planning to join the latest national demonstration over university fees have been urged to warn them about the potential dangers.
Students are to protest in central London over moves that could result in fees rising to a maximum of £9,000.
The Metropolitan Police's Commander Bob Broadhurst said there was only so much officers could do to protect children if Tuesday's protest turned violent.
Several arrests were made when trouble flared at two previous demonstrations.
On Wednesday 24 November, 35 people were arrested and the Met said seven police officers were injured when violence broke out during a protest organised in central London.
Student activists criticised the "heavy handed brutality" of police who denied allegations that mounted officers charged at demonstrators.
Police also defended their use of "kettling" tactics which involved thousands of protesters, including many school pupils, being held for about four hours in Whitehall.
Speaking ahead of Tuesday's planned protest, Commander Broadhurst said: "Schoolchildren have as much right as anyone else to protest, but young people are more vulnerable and likely to be injured if violence breaks out.
"We would ask parents to talk to their children and make sure they're aware of the potential dangers, as there is only so much police officers can do once they are in a crowd of thousands."
But London Assembly Green Party member Jenny Jones said it was important young people were given the chance to protest without being put in danger.
She said: "If young people come to London to protest then they have got the right to expect the police to let them protest peacefully.
"They (Met) are almost saying it is too dangerous to protest, but it is the police who are making it more dangerous by using tactics such as kettling.
"People are always wanting young people to get involved in politics and this is their chance to learn how politics works.
"It seems as if they have engaged and the police are crushing their enthusiasm."
A total of 66 people were arrested after protesters broke into the Conservative Party's headquarters in Millbank, central London, on 10 November.
Last week Edward Woollard, of Southampton, admitted throwing a fire extinguisher from the roof of the building during the demonstration.
Warning people to consider their actions, Commander Broadhurst said: "The Met will always respect the right to protest peacefully, but I would urge all those considering taking to the streets of London again this week to think carefully about the consequences of engaging in violence and disorder.
He said the Met was gathering intelligence from a variety of sources and developing an "appropriate and proportionate" policing plan for the day.
"I would urge those planning to protest to get in touch and work with us to make sure that the point they want to make on the day is not lost in a sea of violence and disorder," Commander Broadhurst said.
The protests are in opposition to plans that could lead to tuition fees almost trebling and proposed cuts in university funding.
Mass protests have been held in several cities since the plans were announced and peaceful occupations of university buildings have been taking place at several universities since last week.
Related Internet Links
The BBC is not responsible for the content of external sites.