London Mayor Boris Johnson faces misconduct complaint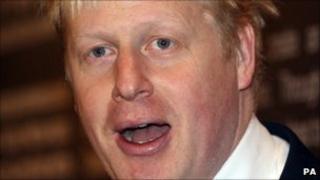 The Labour group on the London Assembly has filed a complaint accusing Mayor Boris Johnson of misconduct for failing to register "declarations of interest".
It is claimed Mr Johnson broke the rules by failing to declare his relationships with two people involved in the Olympic Park in east London.
The Labour group says one was unpaid fundraiser Helen Macintyre, while the other person a donor to the project.
The mayor's office said its processes had been "proper and transparent".
The alleged breach of the rules relates to the 2009 appointment of Ms Macintyre as an unpaid fundraising campaigner for a visitor attraction at the sporting complex in Stratford.
The donor referred to in the complaint, who made a donation of £80,000 to the project, is known to both Ms Macintyre and Mr Johnson.
End to 'cronyism'
John Biggs, the deputy leader of the Labour group, said he had formally referred both matters to a Standards Sub-Committee. He said two codes of conduct were broken by the mayor.
"The rules are about declarations of interest, it's not just about financial remuneration.
"It's about people in a position of power using that power in a way that's transparent and can be defended and accounted for in all instances.
"The evidence appears to be that he [the mayor] has had a relationship down the years, particularly with Helen Macintyre, but also he's had an acquaintance with the other person and that he didn't declare those as a part of the process of appointment."
He added: "The mayor was elected saying that he wanted to end what he alleged was a culture of cronyism.
"We have written to him a couple of times and he has replied that he basically just doesn't want to answer those questions. So we think it needs to go to the next stage."
A statement from the mayor's office said: "Helen Macintyre was never employed by the Greater London Authority.
"The basis on which she was engaged to raise significant funds from private donors was clearly set out in a formal letter which was published on the GLA website.
"Our processes throughout have been thorough, proper and transparent."
The Labour group's claims will be investigated by an independent panel.