Hanwell Flight lock gate replacement work begins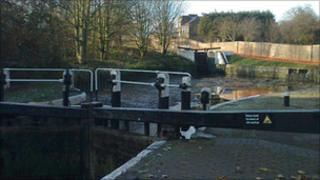 Work has begun to replace a 19th Century lock gate in west London.
British Waterways is replacing one of the six 3.6 tonne lock gates at Hanwell Flight on the Grand Union Canal in Hounslow.
The pond around the William Jessop-built gate, made of European oak wood, will also be cleared and turned into a beauty spot, British Waterways said.
The project, costing £500,000, is expected to be completed in a month and the gates will last about 25 years.
The series of six lock gates are located just north of Green Lane and were built as part of the 137-mile Grand Union Canal, which was completed in 1800.
Waterways 'jewel'
The canal runs from Brentford in west London up to Birmingham, joining with the River Thames in Brentford.
Antonia Zotali, British Waterways' senior engineering project manager said: "The Hanwell Flight on the Grand Union Canal is one of the jewels in the crown of the London waterway network.
"This picturesque piece of working industrial-era infrastructure is over 200 years old so it's not surprising repair works like these are necessary."
Local residents have been taken on guided tours to show the work planned for the area.