Jimmy Mizen's family opens Cafe of Good Hope in Lewisham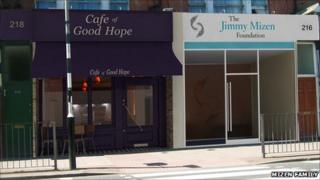 The family of murdered schoolboy Jimmy Mizen have opened a cafe in south-east London, a mile away from the cafe where the 16-year-old was killed.
His father Barry Mizen said they wanted to "spread hope" through the new Cafe of Good Hope in Hither Green, Lewisham.
Jimmy was killed in May 2008 in the Three Cooks Bakery in Lee, around the corner from the Mizen family home.
Mr Mizen said the family's aim was to now buy the cafe where his son died and convert it into a "hope cafe".
The new Cafe of Good Hope in Hither Green is next door to the headquarters of the charity established in Jimmy's memory, the Jimmy Mizen Foundation.
The Mizen family has owned the two adjacent properties for more than 30 years, but they have been empty for the past few years after a business which ran from there closed down.
Painful memories
Mr Mizen said: "We are giving a message of hope that we can make a change rather than despair.
"Our ambition is to turn the Three Cooks Bakery into a Cafe of Good Hope.
"The bakery causes us pain, as we walk around it at all times because it is just round the corner from our home."
Mr Mizen said they had been funding the activities of the foundation through donations and what he earned from his occupation as a shoemaker.
The family hit upon the idea of opening a cafe, which they hope will become a "community hub", next to the office of the charity.
The cafe will serve sandwiches and handmade chocolates made by Jimmy's older brother Billy Mizen, 30, who is a trained patisserie. Two other brothers Bobby, 26, and Tommy, 28, will also be involved in the running of the cafe.
The proceeds from the cafe will go towards running the various projects undertaken by the charity and young people living locally will be able to get work experience at the cafe.
Mr Mizen added: "We will at least try to be sustainable. We would like to do the work for the Foundation full time but that needs money and we are hoping this business would help."
Jimmy bled to death in the Three Cooks Bakery after a glass tray was thrown at him during a row.
Jake Fahri, 19, from Lee, was convicted in March 2009 of Jimmy's murder. He was sentenced to life in prison and told he would serve at least 14 years.