Fourth strike by London Tube workers begins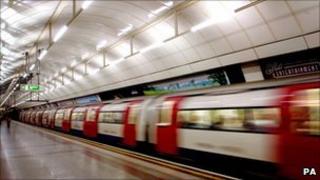 A fresh 24-hour strike by thousands of workers is expected to cause major disruption on the London Underground.
Members of the RMT and the Transport Salaried Staffs Association walked out at 1829 GMT for the fourth strike over plans to cut 800 ticket office jobs.
LU's refusal to suspend its plans for 12 weeks for talks has prompted them to go ahead with the strike, the RMT said.
But Tube bosses said the unions did not take up their offer to further discuss the cuts proposals for six weeks.
LU said 77 stations across the network would remain closed, but said it intended to "run services on nearly all Tube lines, meaning that people will be able to get around".
The strike will last into Monday evening, leading to chaos for commuters at the start of the week.
Last week the unions had offered to suspend the strike if LU agreed to stall its proposal to make the cuts for 12 weeks, but talks with the management at the conciliation service Acas broke down.
Talks collapsed
RMT general secretary Bob Crow said: "It is incredible that LU management would not agree to a 12-week suspension of the cuts to allow a thorough safety evaluation on the impact on each station of their cuts plans.
"They have thrown back in our faces a chance to suspend the action and have collapsed the talks and as a result the strikes go ahead from Sunday evening."
Mike Brown, managing director of LU, said: "We have been consulting with the union leaderships on this for more than six months, trying to establish what specific safety concerns they may now have.
"This week we offered a further six weeks to discuss our plans to see if there are any local issues which need to be addressed, but the leaders of the RMT and TSSA prefer to attack the people of London yet again and attempt to hold us all to ransom."
Union members have staged three strikes since August over the future of 800 employees in ticket offices at Underground stations.
Managers say fewer staff are needed at counters because of the widespread use of Oyster swipe cards, but the RMT says this will affect both passenger and staff safety.
Transport for London (TfL) has disputed the union's claims, saying all stations will be staffed while open.
'Speak to workers'
Former London mayor Ken Livingstone urged current mayor Boris Johnson to intervene in the dispute, saying: "Londoners have endured months of Tube misery with delays, disruption and strikes, yet Boris Johnson refuses to roll his sleeves up and get a grip."
Mr Livingstone, who is due to stand against Mr Johnson as Labour's candidate in the next mayoral election, said: "It's been well over 900 days since Boris Johnson was elected and he is yet to speak to the representatives of Tube workers.
"As mayor of London and chairman of Transport for London, meeting the representatives of Tube workers is an essential part of the job, whether Boris Johnson likes it or not."
TfL said 100% of its "usual train service" was in operation on Sunday evening and "only a few stations" closed early.
It said: "The Jubilee line experienced delays for a short period of the evening due to a signal failure at Westminster, which was totally unrelated to the unnecessary strike action called by the leaderships of the TSSA and RMT unions."
On its website, TfL has said volunteers would be on hand at key stations to assist passengers and an extra 100 buses and boat services would be available for commuters during the strike.
It also warned its cycle hire scheme was likely to face high demand and some Tube stations would be closed.
LU said it expected to be able to run trains on all lines except the Circle Line - although it warned sections of some other lines may have no service.
In Zone One, it expected the Piccadilly and Circle lines to be out of service, while service would start on the Central Line from 1000 GMT.
Among the 77 stations expected to be closed throughout Monday were Charing Cross, Clapham Common, Heathrow Terminal 4, Shepherd's Bush and Piccadilly Circus.
Others could be partially closed, TfL warned.