Met deny 'horse charge' at London student fees protest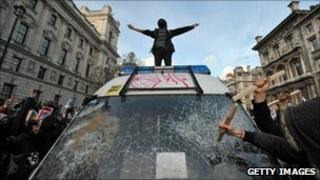 The Metropolitan Police have denied allegations that mounted officers charged at demonstrators during protests against tuition fee rises.
Footage posted on YouTube showed Met officers on horses approaching demonstrators in London on Wednesday.
Earlier, student activists accused officers of "heavy handed brutality".
The Met said: "The use of police horses to disperse and distance the crowd was an appropriate and proportionate tactic at the time".
"The police horses were trotting," the statement added.
'Got it right'
The protest in Whitehall on Wednesday was the second mass demonstration by students over the government's decision to raise university fees.
The force was criticised over its handling of the first student protest on 10 November, which led to a riot at the Conservative Party's headquarters at Millbank in central London.
Following this week's protest Met Commissioner Sir Paul Stephenson said "the bottom line is we didn't get it right two weeks ago, and in my opinion we did get it right [on Wednesday]".
Discrepancies between an official statement from the force on the event and comments from the commissioner since the protest have been criticised.
Brian Paddick, former Deputy Assistant Commissioner, told the BBC: "When the commissioner says he has no knowledge of it, but then the press office make a positive statement saying it never happened, that's clearly a mixed message.
"If there were school children, their parents and a pregnant woman there, then serious questions need to be asked as to whether that was an appropriate tactic in those circumstances.''
John Biggs, a Labour member of the Metropolitan Police Authority, said: ''I think the explanation we've had so far just isn't good enough.''
Sir Paul has defended the decision to contain demonstrators in Whitehall through so-called "kettling". He said "vulnerable people" had been let out and officers had removed their helmets in an attempt to calm people down.
A statement after the incident from the Education Activist Network, which helped organise the protests, said: "In London the heavy-handed brutality of the police force denied thousands the right to protest."
Following Wednesday's protests 35 people were arrested, nine of them in connection with damage caused to a police van left in the middle of the demonstration.
Seven police officers were injured, with two requiring hospital treatment.