Bernie Ecclestone attacked by muggers in London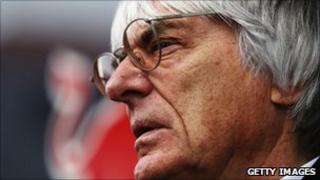 Formula One boss Bernie Ecclestone has been mugged outside his central London business headquarters.
The 80-year-old suffered a head injury when he was attacked by four men at the Formula One Holdings building in Knightsbridge.
He was repeatedly punched and kicked by the men who were lying in wait for him as he arrived at the HQ with his Brazilian girlfriend Fabiana Flosi.
Jewellery valued at £200,000 was stolen in the robbery on Wednesday.
Police said Mr Ecclestone was taken to hospital where he was treated for a minor head injury before being allowed home soon after.