Protesters bailed after London student fees demo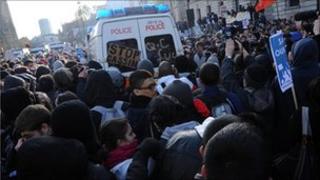 At least 30 people arrested in London during a student protest over tuition fees have been released on bail.
Police officers arrested 41 people during the demonstration on Wednesday.
They were aged between 15 and 23 and were questioned on suspicion of various charges including violent disorder and criminal damage.
Metropolitan Police Commissioner Sir Paul Stephenson said he expected more disorder following two mass student protests in as many weeks.
The status of the remaining six people arrested has not been revealed.
Student group, the Education Activist Network, criticised the "heavy handed brutality" of London's police during Wednesday's protests.
It said a follow-up day of action was being planned for next Tuesday, billing it as a national student strike.
Sir Paul said he felt the force had "got it right" on Wednesday but had not done as well when policing a similar march on 10 November.
A police report found the numbers attending that march were significantly under-estimated by police and the National Union of Students.