Two-year Thameslink delay will 'prolong disruptions'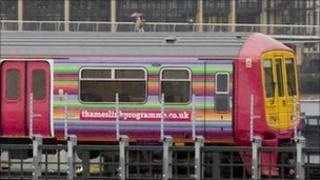 The two-year delay in the Thameslink project will prolong disruption for passengers, according to pressure group London TravelWatch.
The project will add "much-needed capacity" but Transport Secretary Philip Hammond's announcement of a delay means more overcrowding, it said.
The comments came as the government said work on the Brighton to Bedford route would go-ahead.
First Capital Connect said 12-carriage trains will run from December 2011.
Transport Secretary Philip Hammond approved the Thameslink project as part of an £8bn investment in the UK rail network.
'Jam tomorrow'
Once completed in 2018, the capacity on the route will be doubled in terms of both carriages and frequency.
Up to 1,200 new carriages will be added to north-south Thameslink trains and passengers will see 24 trains an hour on the route through London.
But the government said refurbishment work at London Bridge station is being restructured as the original plan was "ambitious".
Network Rail said its 2016 target for completing the work was "always ambitious in terms of the time-scale".
Its spokesman said: "The redevelopment of London Bridge station is a major undertaking and will involve significant alterations to the tracks, station platforms and the concourse.
"However, the new timescales announced today by the government means we can carry out the work in a way which is less disruptive to passengers, as well as seek further efficiencies in design and delivery of the work."
Jo deBank, of London TravelWatch said: "We are very pleased that Thameslink is going ahead in its entirety, providing much-needed capacity for inner London and the surrounding commuter regions.
"However, we are disappointed that passengers will have to endure severe disruption for a further three years, especially at a time when passengers are suffering huge fare rises.
"This delay means it is not so much jam tomorrow, as jam the day after tomorrow."
A First Capital Connect spokesman said: "The Thameslink Programme is critical to addressing overcrowding on our Thameslink and Great Northern routes.
"It has delivered new trains - almost 5,000 seats - and we will have the first 50% longer 12-carriage trains from December next year."
The reconstruction of London Bridge station will "unblock one of our worst bottlenecks on the rail network", he added.
Baroness Jo Valentine, chief executive of London First which represents major London firms, said the go-ahead for Thameslink will send an "important signal that London can cater for growth by renewing and expanding its critical transport infrastructure".