Footballer research 'sparked arrest over 1982 murder'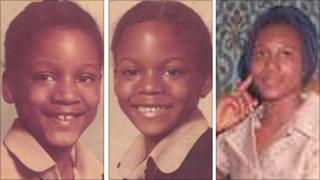 A man accused of killing a mother and two children was arrested after a journalist researching a footballer contacted police, a jury has heard.
Norma Richards, 27, and her daughters Samantha, nine, and Syretta, seven, were found murdered at their home in Dalston, east London, in July 1982.
Wilbert Dyce, 54, of Forest Gate, denies murder at an Old Bailey trial.
In 2009, a reporter requested details on footballer Laurie Cunningham's brother Keith's murdered family.
A cold case review began and advances in DNA led to Mr Dyce's arrest.
'Cold-blooded'
Aftab Jafferjee, QC, prosecuting, said: "It was the twin factors of DNA profiling and cold-case reviews which caught up with the killer.
"What triggered the investigation was a request by a journalist who was writing a book about Norma Richards' 'brother-in-law' Laurie Cunningham, a professional footballer.
"The journalist recalled these killings and contacted the police to inquire whether there had been any resolution."
Laurie Cunningham, who made his name playing for West Bromwich Albion, was the first black player to be in an England squad.
Ms Richards had been Keith Cunningham's partner for many years.
She was found naked, having been raped and stabbed at the family home, while Keith was with his brother in Spain where he was playing for Real Madrid, the court heard.
Her daughters from a previous relationship were found in bath of cold water.
Mr Jafferjee told the court the murders were "unspeakably cold-blooded acts of brutality".
"She was plainly raped. Her rapist then went on to become her murderer," he added.
"It is an irresistible inference that her children awoke to see their mother being raped or murdered.
"Their crime was to have seen their mother's attacker and so their young lives had to be violently snuffed out."
Many people had been arrested and interviewed but Mr Dyce had not featured in the murder inquiry because he had no known association with Ms Richards, the court heard.
But Mr Dyce had met Keith Cunningham and could have used this to persuade Ms Richards to allow him to walk her home from a club where she had been with friends, it was alleged.
The trial continues.