Tube strike suspension offered by RMT and TSSA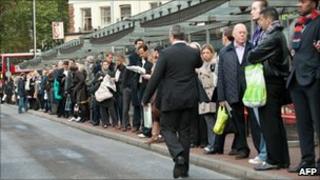 Two unions have offered to suspend further strikes on the Tube if a safety evaluation takes place into planned job cuts.
Members of the RMT and the Transport Salaried Staffs Association (TSSA) have staged three strikes in recent months over the threat to cut about 800 jobs.
They are planning another 24-hour walkout from the evening of 28 November.
London Underground (LU) said it was willing to have discussions.
The unions made their new proposal during talks at the conciliation service Acas.
It recommends the suspension of industrial action if LU agrees to a 12-week suspension of staffing cuts to allow a station-by-station safety evaluation.
RMT general secretary Bob Crow said: "After many hours of talks we have now pinned down the issue of the station-by-station safety review, the mechanism for that review and the timescale to allow it to be carried out.
"Clearly, the review can only happen in a meaningful and thorough fashion if the job cuts process is suspended for the 12 weeks that we believe is required.
"If the management agree to that then we will recommend the suspension of the industrial action through Christmas and into the new year."
LU chief operating officer Howard Collins said: "After several weeks of discussions with trade union reps at Acas, we welcome the fact that the RMT and TSSA leaderships are saying they will continue to talk to us about any outstanding concerns they have.
"If they are serious, they should call off their totally unnecessary strike immediately.
"We will talk to them right now on any genuine safety issues they have. We want an end to this dispute and believe that a resolution will be only achieved through talks, not by threatening to disrupt London."