Student fee protester admits throwing fire extinguisher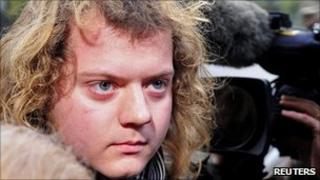 An 18-year-old student has pleaded guilty to throwing a fire extinguisher from the roof of a Millbank building during the student fees protests.
Edward Woollard, of Southampton, appeared before Westminster magistrates charged with committing violent disorder in the 10 November protests.
During the disorder, protesters broke into 30 Millbank and emerged on the roof.
Sixty-six people were arrested following the violent protests.
'Very sorry'
In court, his solicitor Matt Foot said: "Mr Woollard is pleading guilty and I make it very clear he is very sorry for his actions."
Woollard admitted one charge of violent disorder, which carries a maximum sentence of five years in prison under the Public Order Act.
Woollard was arrested in Southampton five days after the protests in central London.
Windows were smashed, furniture vandalised and missiles, including the metal fire extinguisher, were thrown at police officers during the clashes.
A four-hour stand-off ended when police brought in more than 100 extra officers to clear the building and the road outside.
District Judge Evans has ordered a pre-sentence report to be carried out and released Woollard on conditional bail.
He committed the case to Southwark Crown Court for sentencing at a later date.
The maximum sentence that can be given for the offence is five years in prison.