London cycle hire scheme to open up to casual users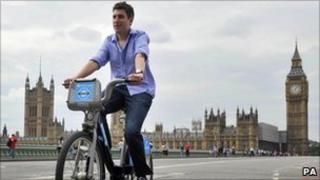 Casual users will soon be able to use London's cycle hire scheme, Transport for London has said.
From 3 December, anyone with a debit or credit card will be able to hire one of the bikes.
At the moment, you have to be registered and have a key fob to get a bike.
Transport for London (TfL) said the scheme, which began this July, has more than 100,000 members who have made about 1.7 million journeys.
People had to register at first to allow TfL to monitor usage and allow the scheme to bed in.
The registration phase was due to last four weeks but this was extended to allow TfL to study the system in greater detail.
Mayor of London Boris Johnson said: "It is fantastic that the Barclays cycle hire scheme has not only proved incredibly popular but the system has shown itself to be rigorous and robust.
"Now it has been thoroughly tried and tested by more than a 100,000 members we are ready for the next stage where anyone who fancies taking to two wheels can do so in an instant with a simple swipe of their card."