DJ Nihal to provide music for London new year fireworks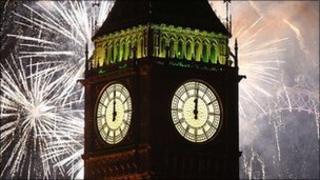 London's new year fireworks spectacle on the River Thames will have a musical soundtrack for the first time, mayor Boris Johnson has said.
The exclusive soundtrack is being created by BBC Radio 1 DJ Nihal, who will be mixing music live in the build-up to midnight.
Organisers expect up to 250,000 people to attend the display, which will last for about eight minutes.
The whole event will cost £1.8m to run, about £100,000 more than last year.
'Dazzling display'
The London Development Agency will pay £1.5m of the costs, with the rest coming from the mayor's office.
"There is something exhilarating and primal about the flashing lights and noisy explosions of a fireworks display, especially on New Year's Eve," Mr Johnson said.
"With our dazzling display we want to capture the dynamism, colour and energy that are the hallmarks of our great city."
British company Kimbolton Fireworks will provide the pyrotechnics for the display.
Last year, more than 200,000 people gathered along the banks of the River Thames to hear Big Ben strike midnight and watch fireworks erupt over the London Eye.