Diner banned from central London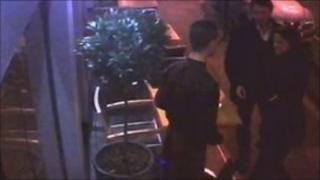 A diner who racked up bills worth thousands of pounds at restaurants, before fleeing without paying, has been banned from parts of central London.
Janis Nords, 27, of Stoke Newington, north London, admitted three counts of leaving without paying at restaurants.
In total he owed nine restaurants £5,880. Westminster Magistrates court ordered him to repay the money.
Nords was given a 12-month community order banning him from six London postcodes.
The postcodes - W1, WC1, WC2, SW1, SW3 and NW1 - are all home to a high concentration of expensive restaurants.
Nords, a filmmaker, was also given a 90-day curfew forcing him to remain in his home address from 1800 GMT to 0600 GMT every day, and he must wear an electronic tag.
The charges relate to a £349 bill at the Glass House in Richmond, a £965 bill at the Connaught Hotel and a £1,021 bill at L'Oranger in St James's Street.
Nords was caught after being seen on CCTV leaving the Michelin-starred L'Autre Pied restaurant in Marylebone on 17 November.
He and a companion ate hare and venison, drinking both a £124 Larmandier pink champagne and a £285 bottle of 1997 Bollinger.
They left the restaurant to smoke before walking off.
A woman in her 20s was arrested in Stoke Newington, but was later released without charge.