Nordic Walking: Coming to a park in Croydon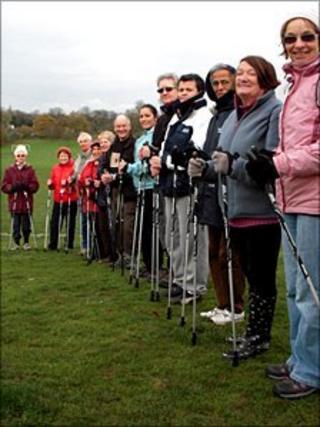 Nordic Walking generally conjures up images of snow, clear blue skies and alpine vistas rather than a muddy football pitch in a south London park.
But this failed to deter a group of novices as they lined up for their first lesson on a cold, overcast November morning.
Well wrapped up against the elements there was a definite sense of apprehension as they embarked on their foray into Nordic Walking.
The free sessions in Lloyd Park are being run as part of Croydon council's active lifestyle programme which was the first London council to enlist the help of British Nordic Walking (BNW).
Nordic Walking originated in Finland in the late 1990s to keep professional cross country skiers in shape during the summer and has been enjoyed as an activity in Britain for about 10 years.
The walker is kitted out with two poles which are used to propel the walker forward and mostly mimics skiing actions.
BNW instructors ran a two-day course in September to train up volunteers, one of whom was Bob Dear who led the first lesson.
He said that despite his research revealing Nordic Walking websites full of people "clad in Lycra with air hostess grins" he decided to give it a go.
"I didn't know whether I would like it or not but I am sold on it.
"I think the group today took it OK. It is quite a different approach to walking.
"They weren't too keen on having to warm up and cool down and there was some resistance to some of the drills I introduced, so I might have to come up with other ideas."
Overseeing the first session was BNW's Daniela Coelho, who is used to introducing the sport to people in London and to the reaction it draws.
She said: "The first time they laugh and say, 'Ah but there is no snow'.
"But when you show them and they see the benefits, people are converted quite quickly.
"A lot of people in London walk anyway so it is easy and they can see the benefits quite quickly, especially women who want to work their triceps."
Also taking part in the lesson was Suzanne Swan, 64, who decided to give Nordic Walking a go after developing hip problems.
She said: "I thought, that sounds interesting, so I put my hand up for it.
"I realised how much easier it was for my hips and more symmetrical it was so I bought my own poles for £17 on internet and I have been practising in my local park.
"I go every morning for a good hour but only very early so there are only the dog walkers there to see me, I'm not going out when there are school kids are about."
Ballroom dancer Margaret James, 63, from South Croydon, got involved after reading about the classes in a newspaper article.
"I don't like walking at all but I thought this looked interesting and was curious to find out more.
"I do a lot of dancing and I was finding my posture was going and I thought it would help with that.
"I really like having the poles and it's a good social scene, we have a good chat on the way round and where else can you find out about gardeners?"
Croydon Council's heath walks have been successfully running for about 10 years and it is hoped Nordic Walking will offer those who want the challenge, something a little bit extra.
The council's active lifestyles manager Lois Curtis said: "It is about people taking responsibility for their own health and giving them something different that's not already out there.
"A different type of person will participate in this, perhaps people with joint problems or those who have been referred after undergoing heart operations.
"Anything that we can do to try to encourage people to exercise more regularly, and at an increased intensity, to help prevent the risk of coronary heart disease is a good thing and this is what we are trying to do."
While it is hoped the classes will prove popular the council admits it may be some time before Nordic Walking is a regular sight on the streets of Croydon.