EDL founder denies Armistice Day assault on officer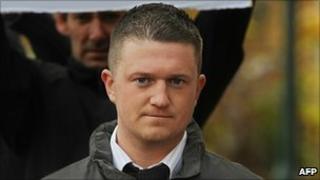 The founder of English Defence League has denied assaulting a police officer during clashes with Muslim protesters on Armistice Day in west London.
Stephen Lennon, 27, was arrested in Kensington, as the Muslims Against Crusades group burnt a poppy during a two-minute silence to mark the day.
Mr Lennon, of Luton, was released on unconditional bail when he appeared at West London Magistrates Court charged with assaulting a police officer.
He will go on trial on 12 January.
The groups clashed when Islamic protesters burnt a poppy and chanted "British soldiers burn in hell" as the two-minute silence began on 11 November.
One officer suffered a head injury during the clashes as about 50 men linked to the English Defence League (EDL) were kept away from the Islamic group.
Addressing about 30 EDL followers who had gathered outside the court Mr Lennon, of Layham Drive, said: "I'm morally innocent.
"I would do it again tomorrow, we will do it again, whenever we see them disrespecting our troops."
Seven other people were bailed to appear in court in mid-December.