'Erotic' adverts banned from London Westfield suit shop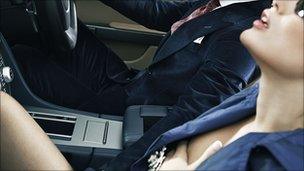 A clothing store that has displayed "erotic" posters in its windows in a west London shopping centre has been told to remove them.
The posters appeared in Dutch fashion firm Suit Supply's store at Westfield in Shepherd's Bush.
The campaign provoked more than 20 complaints to Westfield and the Advertising Standards Authority (ASA).
Suit Supply founder Fokke de Jong has agreed to remove the posters but said: "We make no apology."
The posters include an image that depicts a man driving as he touches a female passenger who appears to be touching her breast.
"We think this is a campaign that has a strong erotic tension," said Mr de Jong.
"We're not dressed up just to stop us from getting cold."
"We make no apology. People need to look more carefully," he added.
"It's a good mix between sex, humour and style - the three basic elements of fashion."
The ASA said it had received 24 complaints regarding the posters.
However, it said in-store advertising was not covered by the ASA's remit so it would pass the complaints onto government advice service Consumer Direct.
A Westfield spokeswoman said: "We are taking this matter very seriously and have approached Suit Supply to request the immediate removal of the offensive images."
Suit Supply said it was in negotiation with Westfield about displaying censored versions of the posters.
Related Internet Links
The BBC is not responsible for the content of external sites.