Sir Geoff Hurst gets an honorary degree in east London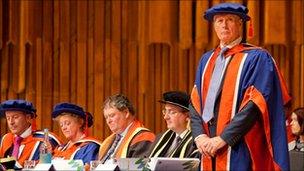 England footballing legend Sir Geoff Hurst has received an honorary degree at the University of East London (UEL).
Sir Geoff became a Master of the Arts at the graduation ceremony in central London.
"Teachers and parents are there to guide and support you, but it is ultimately up to you to shape your lives," he said.
Sir Geoff won international fame by scoring three goals in the 1966 World Cup final.
His goals secured England's 4-2 victory over West Germany at Wembley Stadium.
He added: "I wasn't a top-class footballer as a boy, but I was consistent, took my studies seriously and worked hard.
"While you should enjoy today, you should remember it's just the beginning, and you will need to continue to work hard."
Related Internet Links
The BBC is not responsible for the content of external sites.