Green Park Bomber Command heroes memorial to go ahead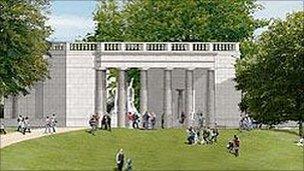 Building work on a memorial to honour the aircrew of Bomber Command who lost their lives during the World War II will begin in January.
The RAF Bomber Command Association Memorial Fundraising Committee said it was close to its target of £5.5m.
The 8.5m-tall pavilion in Green Park will pay tribute to the 55,573 crew members who lost their lives.
Donations were received from among others, the Polish Air Force and people in Australia, Holland and New Zealand.
The Bomber Command Association and the Heritage Foundation has campaigned for three years to have a permanent memorial.
The pavilion is expected to be completed by early 2012 but campaigners have asked for more donations which will go into a fund to maintain the memorial.
Bomber Command's role was to attack Germany's airbases, troops, shipping and industrial complexes connected to the war effort.
Sir Michael Beetham, president of the Bomber Command Association, said: "The response to our Memorial Appeal has been tremendous, I would simply like to thank every one of you who has given so generously."
Robin Gibb, CBE, chairman of the Heritage Foundation, added: "It gives me great pleasure to know that everything we have been through for three years since we started this campaign for the Bomber Command Memorial is being rewarded."
The entrance of the Portland Stone structure will be made from melted down aluminium sections of a Halifax bomber shot down during the war and will house a sculpture of the seven aircrew killed in the plane.
The structure was given planning permission by Westminster Council in May.
Related Internet Links
The BBC is not responsible for the content of external sites.