London 2012 Olympic Park artist-in-residence appointed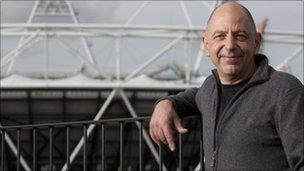 An artist has been appointed to oversee a number of projects in the Olympic Park in the run up to the 2012 Games.
For the next 16 months Neville Gabie will work alongside the park's workforce and communities.
His work will focus on the changing nature of locations and diverse communities who live and work in them, the Olympic Delivery Authority said.
The ODA said the projects would honour the history of the past as well as capture the aspirations for the future.
Sarah Weir, from the ODA, said: 'With the Olympic Park undergoing the "big build" phase, this is a special time for an artist to be on site and get under the skin of this unique regeneration project.
'We were looking for an artist who would be able to respond to the physical transformation of this part of London, honouring the history of the past while also capturing the changing nature of the present and the aspirations for the future.
"We hope that Neville's work with the workforce and the communities around the park will help continue to foster a sense of ownership and local involvement."
Mr Gabie's previous projects and residencies include a four-month spell in Antarctica with the British Antarctic Survey and three years on the Cabot Circus Development building site in Bristol.
Speaking about his appointment, he said: "This project brings together things that I have long been passionate about - the diversity of community, engagement with people and place and a shared experience of sport and play."
Related Internet Links
The BBC is not responsible for the content of external sites.