London woman's family link to WWII hero investigated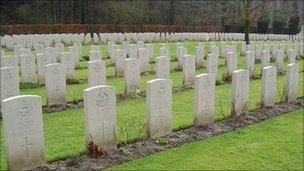 Investigations have begun after a woman came forward in response to an appeal to track down the relatives of a World War II RAF pilot.
The woman thinks she is the great niece of Flight Sergeant Frederick Albert Wall who was shot down in Salzbergen, north-west Germany, on 6 March 1945.
German authorities had wanted his relatives to attend the unveiling of a memorial at the crash site on Saturday.
Sergeant Wall was buried at Germany's Reichswald Forest War Cemetery.
Sutton Council, which has been involved in helping to trace the pilot's relatives, said few details were known about the woman who came forward on Friday.
A spokesman said: "I don't know much about the lady as she only came forward yesterday afternoon but she thinks she may be his great niece."
He added that genealogists were now working to verify the claims which could be completed as early as Monday.
Using their archives the council has established that Sergeant Wall's parents were Albert and Kate Wall of Carshalton in south-west London but none of his living family are known.
Sergeant Wall, together with six crew members, died in the crash and were temporarily buried at the spot where they came down before being moved to the Reichswald War Cemetery.
He was 29 at the time of his death and a member of the Royal Air Force Volunteer Reserve Unit 514 Squadron.
Newspapers reported that 119 Lancasters of No 3 Group, accompanied by RAF Mustangs and Spitfires, attacked the Wintershall oil refinery north-west of Munster, Germany, in broad daylight.
Günther Gratzki, who organised Saturday's memorial service at the crash site said: "These men were only doing their duty and I think it is important that we honour them so that others remember their sacrifice."
Related Internet Links
The BBC is not responsible for the content of external sites.