Crowds gather for Lord Mayor's Show in London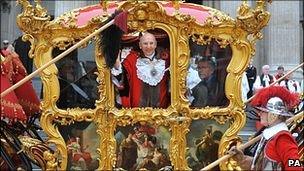 Thousands of people lined the streets of central London to watch the Lord Mayor's Show.
Up to 6,000 people took part in the annual parade, which featured 71 floats, 21 carriages, 150 horses and 20 marching bands.
One of the oldest military bands in the country, the Battle of the Grenadier Guards, started the festivities.
Crowds watched as the 683rd Lord Mayor of the City of London, Michael Bear, passed by in the gold State Coach.
Thousands of people crowded on to Victoria Embankment to watch a fireworks display which marked the end of the event.
Much of the Square Mile was closed to traffic all day.
The show began with a medal ceremony for 12 reservists, who have recently served as soldiers, sailors and airmen or airwomen in Afghanistan and Iraq, and a serving City of London police officer.
Presenting the medals the new lord mayor, Alderman Michael Bear, said: "These men and women have shown great courage and commitment to improving stability and peace in fragile and dangerous environments, and we are grateful to them for all they have given.
"It is my great honour to be able to present them with their medals and to pay tribute to them, and the thousands of others like them, who carry out this work on a daily basis."
Alderman Bear, who took office on Friday, was carried in the 253-year-old golden state coach to the Royal Courts of Justice where he took an oath of allegiance to the Queen before the Lord Chief Justice and the judges of the Queen's Bench Division of the High Court.
He served as sheriff of the City from 2007 to 2008 and is a civil engineer and the managing director of Balfour Beatty Property.
Related Internet Links
The BBC is not responsible for the content of external sites.