Complaints fall against Met's Territorial Support Group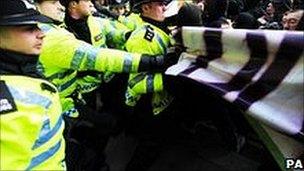 There has been a "significant" cut in complaints against the Metropolitan Police's public order policing unit, a report after the G20 protest has found.
A review of the Territorial Support Group (TSG) was ordered over claims its officers used excessive force during the April 2009 demonstrations.
"Historically" the TSG attracts complaints from the public due to the nature of its "challenging work".
But since 2008, yearly complaints have fallen from 1,658 to 931.
Newspaper vendor Ian Tomlinson died after being knocked down by a police officer during the G20 demonstrations in the City of London - though he was not a protester himself.
'Improved training needed'
A day later protester Nicola Fisher was was struck by a metal baton. Sgt Delroy Smellie was cleared of a charge of common assault over the incident.
The report by the Metropolitan Police Authority also found a drop of 43.8% in complaints since the G20 protests in the City of London.
"Historically the TSG have attracted a large number of complaints against police from members of the public," the report said.
"This was always attributed to the fact that the TSG are the officers who conduct the most stop and searches, they are the officers who usually respond to incidents of violence and police large public order events."
The officers do the "most challenging" work, targeting gangs and seasoned criminals, it added.
The report said that the fall in the number of complaints has seen a "long-term downward movement", with complaints about "failure of duty" and "incivility" falling by a third.
In contrast, the number of complaints against Met officers rose by 2.9% during the same period.
The report following the "comprehensive review" said public order policing remains an "issue".
It also highlighted the need for better training for TSG officers from "constable to inspector rank".
"This training will ensure that they are all clear about the strategic direction, tactics and legal issues facing the MPS [Metropolitan Police Service] in modern day public order policing and the high standards of conduct expected of officers in public order situations."
The review also identified "communication and knowledge of the TSG both internally and externally" as "key" issues.
It found that local area police commanders had a "limited understanding" of TSG functions and were "confused" about their responsibilities and the "significant contribution" the TSG makes to safety in London.
The report also reveals that 400 TSG officers have been trained in the use of Taser - an electronic stun gun - and that it had been fired on 110 occasions between December 2007 and October 2010.
Related Internet Links
The BBC is not responsible for the content of external sites.