Too much sex in the city, say London's councils
By Andy Dangerfield
BBC News, London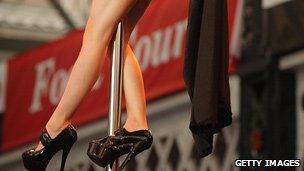 A battle is being declared on London's strip clubs, with many council leaders insisting that no more should be allowed to open.
Since the start of the century, London's adult entertainment industry has been booming.
The number of lap-dancing clubs in the UK has doubled to more than 300 since 2004, according to Home Office figures, with nearly a quarter of these clubs in the capital.
Until earlier this year, strip clubs did not need to apply for a specific sex establishment licence, making it difficult for councils to prevent new ones opening.
But in April, new powers were granted to local authorities in England and Wales to license strip clubs as sex venues.
And many London councils are planning to take advantage of the change in law to stop any new strip joints opening.
Of 32 London councils, 10 said they were currently reviewing their policy on strip clubs.
A further eight are proposing a "nil" policy to the public, which would mean that no licence would normally be granted to new venues.
Conservative-led Hammersmith and Fulham, in west London, is one of the first councils in London to adopt the nil policy, following public consultation.
"We want to make sure that no more sex establishments can open in the borough," said Tory Councillor Greg Smith.
"Residents have told us they do not want them to open in inappropriate places."
Meanwhile, along with neighbouring north London boroughs of Hackney and Camden, Labour-run Islington Council is consulting its residents on the nil policy.
"We're on the side of residents and don't want endless sleaze swamping our communities," said Labour Councillor Paul Smith.
"We think there are enough so-called sex encounter venues in Islington. We don't need any more."
Chris Knight, vice chairman of the Lap Dancing Association, thinks "it is possible for towns and cities to reach saturation point for this type of club".
But he added: "It is important not to penalise any business that are out there.
"Some 30,000 young women work in our industry and contribute billions to the economy."
Feminist journalist Laurie Penny believes that more fundamental issues need to be addressed in the sex industry and banning lap-dancing clubs will not resolve these.
"We're not going bring down the patriarchy just by preventing new lap-dancing clubs," she said.
"Even in the legal clubs, women are subjected to ridiculously exploitative working practices and are in great danger.
"Rather than just banning them, there should be a proper investigation into the working practices that take place there," she suggested.
Westminster, in central London, which contains 27 venues licensed to put on strip shows, is one borough that has no plans to change its licensing policy.
"Our focus is cracking down on illegal sex establishments," says Conservative-run Westminster's head of licensing Andy Ralph.
"We're working with police and landlords to achieve this."
Peter Stringfellow, who owns two table-dancing clubs in Westminster said councils who were proposing the nil policy, were in "panic-mode".
"If the councils are on some sort of moral crusade to close their boroughs entirely to this kind of entertainment, it is wrong," he said.
"A well-run nightclub that offers striptease is a very good business for anybody's borough."
He thinks that strip clubs can be far better for an area than other types of nightclub.
"We have no loud music, no kids fighting outside and no drugs," he said.
Mr Stringfellow said that if councils adopted a nil policy on strip clubs, illegal nightclubs would open instead.
"The minute you ban it, it goes underground," he said.
"If a club is illegal, the owners are not going to care about safety.
"Illegal strip clubs would mean dancers would be in great danger."
Related Internet Links
The BBC is not responsible for the content of external sites.