Workers held by UK Border Agency at Hamleys toy store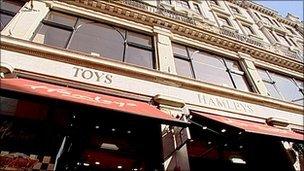 Four suspected illegal immigrants have been arrested during a raid on one of the world's most famous toy stores.
Officials and police entered the Hamleys store in Regent Street, central London, at 0730 GMT on Wednesday.
Two Brazilian men, a Nigerian man and a Ghanaian woman, who work for Loughton-based contractor Crystal Cleaning Services, were detained.
A Hamleys spokesman said none of the arrested staff were employed by the store.
A UK Border Agency (UKBA) spokesman said the four cleaners face questioning over suspected immigration offences and could be removed from Britain.
Crystal Cleaning Services said: "We have followed our advice from our contact at the Home Office and applied the booklet 'Prevention of Illegal Working' provided by the Home Office Border and Immigration office."
A spokesman added that the company had the required papers for all those arrested but it had not been contacted by the Home Office.
The Home Office said it would be in touch with the firm in due course.
Immigration minister Damian Green described the raid as "one of many being carried out across the country following the success of a major crackdown on immigration crime during the summer".
"Illegal immigration puts huge pressure on the public purse at a time when the country can least afford it," he said.
If people are found to have been working illegally, their employer can face a fine of up to £10,000 for each employee - unless it can prove that it carried out the correct right-to-work checks.
Related Internet Links
The BBC is not responsible for the content of external sites.