Heathrow raid gang appeal against 'no jury' convictions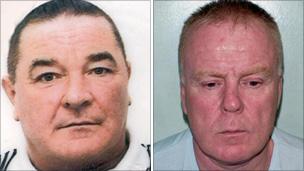 Four people found guilty in a trial without a jury of carrying out a £1.75m armed robbery at Heathrow Airport are appealing against their convictions.
John Twomey, Peter Blake, Barry Hibberd and Glenn Cameron, who were convicted in March, have argued the trial was "unlawful".
The men, who targeted a Menzies World Cargo warehouse in 2004, were found guilty of robbery and having a firearm.
The Court of Appeal judges will sit at the Old Bailey for security reasons.
The appeal centred on the secret evidence of alleged jury tampering which had led to the trial being heard by a judge alone.
It was decided at the time that this material could not be made public or disclosed to defendants because of its sensitivity.
But John Aspinall QC, for Twomey, said there had since been an "essential change in the law" about such disclosure after a ruling in a case concerning the use of control orders.
This means that a "core irreducible amount of material" would have to be given to a defendant which, though not all the material, could be an "edited, summarised or gisted" version.
He said that in this case there had been no disclosure by the Crown about the jury tampering, either at the trial or during a previous Court of Appeal hearing which decided it should be heard without a jury.
The Lord Chief Justice, Lord Judge, sitting with Mrs Justice Rafferty and Mr Justice Roderick Evans, have lifted an order which prevented reporting on the case.
Explaining the reason for hearing the case at the Old Bailey, Lord Judge said "one of these appellants has escaped from custody in the past" and said a condition of their presence for their appeal was that there should be "no security problems".
The Old Bailey trial was the first crown court criminal trial to be held without a jury for more than 350 years after three previous attempts, since 2005, to try the case with a jury failed.
The £1.75m stolen during the raid has never been recovered and 16 staff members at the warehouse were tied up and threatened during the raid.
Twomey, 62, of New Milton, Hampshire, described as the ringleader, was jailed for 20 years and six months while Blake, 57, of Notting Hill, west London, was jailed for life with a minimum term of 10 years and nine months.
Cameron, 50, also of New Milton, was jailed for 15 years and Hibberd, 43, of Shepherds Bush, west London, was sentenced to 17 years and six months.
Related Internet Links
The BBC is not responsible for the content of external sites.