Leaflet appeal over Waltham Forest rape and murder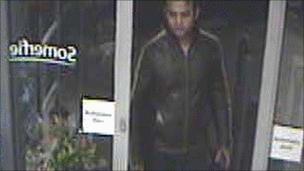 Officers will deliver leaflets to 60,500 homes in east London to try to identify a murder suspect who has also been linked to three sex attacks.
Michelle Samaraweera, 35, was found in a park in Queens Road, Walthamstow, in May 2009. She was raped and strangled.
DNA evidence has linked her killer to three other rapes in the same area.
The appeal comes months after police released CCTV images of a man who was in a shop on the day of the murder at the same time as the victim.
Police have been unable to trace the man seen in the Somerfield supermarket in Markhouse Road in the early hours of 30 May 2009.
The suspect has been described as being of Asian appearance and is aged between 30 and 45 years.
Det Ch Insp Stewart Hill, of the Metropolitan Police, said: "This latest appeal is designed to reach any members of the community who may have missed any previous appeals and the reward of up to £20,000 for information about Michelle's murder and the linked assaults.
"Someone knows who committed these attacks and can help the devastated family of Michelle finally move forward.
"We continue to appeal for information about the man who entered the shop on the same night as Michelle and we're keen to speak to anyone who can help us identify him.
"The pictures are so clear that we remain confident someone will know him and lead us to his current whereabouts."
The information about the three sex attacks in the Waltham Forest area in 2009 emerged after Miss Samaraweera's murder.
Her body was found in a play area in the park, close to the junction with Markhouse Road.
Related Internet Links
The BBC is not responsible for the content of external sites.