Residents protest against Chinatown betting shops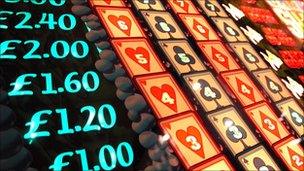 Residents and shopkeepers have gathered in Chinatown to protest against the spread of betting shops in the area.
The demonstrators, who met outside a planned new branch of Betfred in Gerrard Street, said Chinatown already had too many bookies and gambling arcades.
The protest was organised by pressure group London Citizens.
It claims the area is in danger of becoming London's "gambling quarter".
The group says residents are worried about increasing gambling addiction and debt problems in the area, which already has 30 betting shops.
The new Betfred shop is set to open within 100 metres of one of the firm's other branches.
Nikki Lee, of London Citizens, said: "I'm disgusted that in spite of a petition of 76 names and evidence to highlight the vulnerability in the area, Westminster City Council did not refuse this latest bid to open another betting shop in our community.
"Enough is enough, we can't take any more. Chinatown is coming down with betting shops."
Ms Lee said she was not advocating complete prohibition but was worried the presence of so many gambling shops in Chinatown might tempt young people who work in its many restaurants.
She said: "Where else might you head between split shifts if it's cold and wet outside? The obvious answer is a betting shop and even more so if you lack confidence speaking English."
Cllr Brian Connell, Westminster City Council's cabinet member for business, said: "Whilst we are aware of the issues surrounding gambling addiction and its dreadful consequences, I cannot see how a handful of extra betting shops in an area like the West End is a significant contributory factor, particularly with the easy availability of online gambling.
"We will work with the Chinese community and gambling groups to ensure there is advice, in Mandarin and Cantonese, available on premises around dealing with gambling addiction.
"But we could not possibly refuse, or would wish to refuse, a licence on the basis of race - be it Chinese or any other - or seek to exclude a race from using betting shops in case they are tempted into gambling."
Related Internet Links
The BBC is not responsible for the content of external sites.