'Immunity' for officers in gun death of Azelle Rodney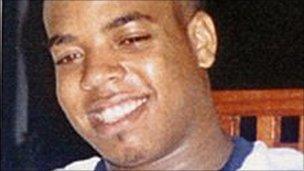 Scotland Yard officers involved in the shooting of a man in north London may get immunity from prosecution at a public inquiry into the killing.
Azelle Rodney, 24, of Hounslow, was in a car when an officer opened fire in Edgware in April 2005.
Sir Christopher Holland, a retired High Court judge, agreed to ask the Attorney General to protect the officers as it was needed to get their full accounts.
Mr Rodney's mother said it could set a precedent for other such cases.
Susan Alexander said the assurance of a "get out of jail free card" could set a precedent.
At the Royal Courts of Justice Sir Christopher Holland said if the police marksmen were granted immunity from prosecution those involved, including the officer who opened fire, would give full accounts of their actions.
Mrs Alexander said: "I am still not happy.
"I just need to get to the truth and find out what happened and I was expecting a timeline of when we might get the full public hearing."
Ashley Underwood QC, counsel for the inquiry, said immunity would "encourage candour" as some witnesses may "point blank refuse" to testify.
He said: "If one is between the devil and the deep blue sea, in my judgment the best option is to opt for the most candid possible evidence for the inquiry so in that instance the truth will emerge."
The court heard how the police marksman E7 fired eight shots at the victim, hitting him in the face, head, neck and chest, but he refused to give details when questioned by independent investigators.
The officer from the Met's firearms unit CO19 did not face charges but an inquest was stalled over the Met's refusal to reveal intelligence.
Daniel Machover, representing Mrs Alexander, said the family wanted an inquiry to take place soon and therefore did not oppose the move.
He said: "What we are worried about is that this will now become a general policy in public inquiries, of getting these advance immunities from the law officers in cases of police shootings and deaths in custody."
He added that senior officers or the force would not be immune from prosecution for negligence.
Mr Rodney's family had also threatened to take action against the government over what they said were delays in holding a public inquiry.
Jason Beer, for the Met, said about E7: "He is ready and prepared to give his evidence in full."
The inquiry is expected to take place next year.
Related Internet Links
The BBC is not responsible for the content of external sites.