Jubilee Line Tube upgrade 'will be ready next spring'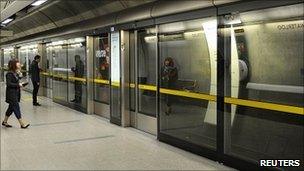 The upgrade of the Jubilee Line is expected to be finished by the spring, London Underground (LU) has said.
Stations have closed on more than 100 weekends since 2007 for work to install a new signalling system, and several deadlines have been missed.
The project was launched by maintenance firm Tube Lines but was passed to LU in June, when it took over the company.
The delays were branded a "debacle" by the office of London Mayor Boris Johnson, and were criticised by MPs.
"The ongoing disruption caused to people who rely on the Jubilee line to go about their daily lives, and the cost to businesses, is unacceptable," members of the Commons Transport Committee said in March.
LU said it had been "working hard" to address Tube Lines' "failure" to complete the work in time.
It also said it had "increasing confidence" it would be able to run a service "across much of the line" for seven days a week "by Christmas".
"Following successful testing of the new signalling system over recent weeks, we are now working to deliver the Jubilee Line upgrade by spring next year," said LU's managing director, Mike Brown.
A separate upgrade for the Northern Line was delayed, as it was due to follow on from the work on the Jubilee Line.
LU said it expected to have "a clear programme" in place by "early 2011" to say when this would be ready but it was expected to be towards the end of 2014.
It also promised to keep closures on the Northern Line "to a minimum".
"The Northern Line upgrade is being reviewed to ensure we can deliver it to a timetable with a much-reduced closure programme that suits London."
Related Internet Links
The BBC is not responsible for the content of external sites.