Second pipe bomb defused after west Belfast bomb blast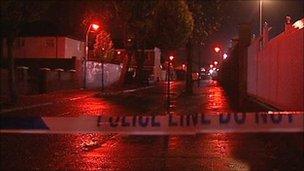 A second pipe bomb has been made safe by the Army in west Belfast.
The viable device was discovered at La Salle Park a short time after another pipe bomb exploded outside a house in nearby St James Park.
The blast happened around 2000 GMT. A family of six in the house at the time was not injured, although a van parked outside was badly damaged.
A number of people who had to leave their homes in both areas have been allowed to return.
It is believed the bomb which exploded was attached to a container of petrol.
Chair of the Lower Falls Residents Association, Robert McClenaghan visited the scene of the explosion.
"It has damaged a works van, so it was powerful enough to blow a hole in the side of the van," he said.
"Everybody that heard the blast said they hadn't heard anything of that calibre in a long long time so it seems to have been an explosive as opposed to some sort of firework."
Local resident Kate Burns came outside when she heard the blast.
"I was just sitting watching tv with my daughter and there was a very large explosion," she said.
"I knew right away that it was not a firework because it was just too loud.
"There was smoke all down the bottom of the street and I made my way down to see what was happening and it became clear that people were saying there was a pipe bomb tied to the gate."
Sinn Fein councillor for west Belfast, Briege Brownlee said those behind the devices had shown "absolute disregard for the community".
"These are viable and dangerous devices," she said.
"The first pipe bomb was attached to a gallon drum of petrol. The second, which was discovered only minutes later, was outside the home of another resident and is of a similar design.
"Anybody could have been passing these devices when they went off and this could have had serious consequences with injuries or death."
Ms Brownlee said those who left the devices must "seriously consider their actions".
"They have attacked this entire community. The need now to come forward and explain what warped logic they had for these actions."