BBC radio presenter Danny Baker diagnosed with cancer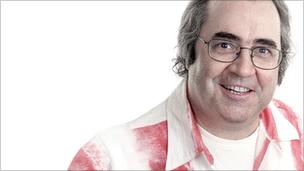 BBC radio presenter Danny Baker has been diagnosed with cancer.
The BBC Radio 5 live and BBC London 94.9 broadcaster said he would be starting chemotherapy this week, with further radiotherapy from January.
The 53-year-old apologised for withholding details of his illness when he was recently absent from his shows.
"After a pretty mouldy diagnosis about a month back I finally begin chemotherapy on Monday with further radiotherapy from January," he said.
Baker presents a football-based programme on BBC Radio 5 live on Saturday mornings and a weekday afternoon show on BBC London 94.9.
During a long career he has presented programmes including LWT's The Six O'Clock Show and his own chat show on BBC One.
He was also a music journalist for New Musical Express.
Adrian Van Klaveren, controller of BBC Radio 5 live, said Baker would be "presenting some weeks but not others".
He said: "I know this will come as quite a shock but as you can see from his message, he's in good spirits".
"I am sure you will all join me in wishing him all the best for the months ahead."
David Robey, the managing editor of BBC London 94.9, said the radio station had been "inundated with messages of support" for Baker, who has an on-air nickname of Candyman.
"Danny has often said he regards BBC London 94.9 as his 'home'," he said.
"He is much loved and missed by everyone at BBC London 94.9, so we wish him a speedy recovery. In the meantime, we'll fill the Candyman's giant shoes with the best possible programmes."
Among the messages of support was one from fellow BBC Radio 5 live presenter Simon Mayo, who wrote on his Twitter site: "Sending Danny Baker best wishes for a speedy return to broadcast duties. Get well soon."
And another colleague, Mark Pougatch, wrote: "All best wishes to the legend that is the incomparable Danny Baker and here's a sausage sandwich to a speedy recovery."
Baker's friend Chris Evans, the host of BBC Radio 2's breakfast show, said the star had been "so positive" about his illness that it was "inspiring".