New London firefighter strike talks planned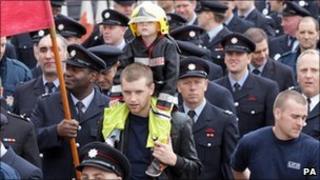 Fresh talks aimed at averting strikes by London's firefighters will be held later on Sunday, the Fire Brigades Union (FBU) has said.
It said it would be meeting London Fire Brigade (LFB) in a bid to avert an eight-hour strike on Monday and a two-day strike starting on Bonfire Night.
The FBU walked out of talks earlier in the week, saying nothing new had been offered in the row over contracts.
But the brigade said compromise was achievable.
Union members are due to walk out from 1000 GMT until 1800 GMT on 1 November and from 1000 GMT on 5 November until 0900 GMT on 7 November.
Prime Minister David Cameron called the strike plans "irresponsible".