Action to save London park's threatened conker trees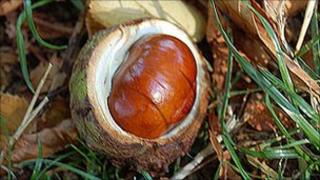 Volunteers are descending on a west London park in an attempt to save conker trees that are under threat from a rapidly spreading breed of moth.
The horse chestnut trees of Osterley Park are at risk from a tiny leaf miner moth, The National Trust says.
The moth has spread across the south east of England in recent years.
Up to 50 volunteers will sweep up the leaves from fallen trees in the park, in the hope that infestation numbers will be dramatically reduced.
The leaves contain the pupa of the leaf miner moth.
The burrowing activity of the moth larvae severely disfigures the appearance of the trees, causing the leaves to turn brown.
No longer able to photosynthesise, the leaves shrivel and fall, well before autumn - the conker season.
Infected trees are also thought to produce smaller, more brittle conkers, according to the National Trust.
"At this time of year, these splendid trees, some of which are 150 years old, would normally be a mass of eye-catching yellow and red leaf colour, and it's terribly sad to see them in this unattractive state," Osterley Park's head warden Jeremy Dalton said.
"Repeated attacks on the trees make them weaker, and therefore vulnerable to other diseases including a form of canker.
"Infected trees also seem to produce smaller, more brittle conkers, which is obviously bad news for children."