Australia Big Ben Ashes cricket stunt 'illegal'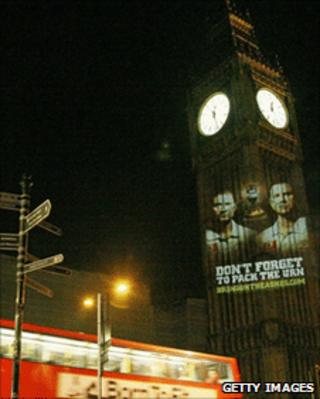 Westminster Council has threatened legal action after a taunting slogan was beamed on to Big Ben by Cricket Australia ahead of the Ashes.
Images of cricketers Ricky Ponting and Michael Clarke were projected on to the tower with the message for the England team: "Don't forget to pack the urn."
Australia hope to regain the trophy from England in the five-game series in Australia which starts in November.
But the council was not amused by the "inappropriate and insulting" stunt.
Its deputy leader, Councillor Robert Davis, said: "The Palace of Westminster is part of a Unesco World Heritage site.
"It's both inappropriate and insulting for this important location and its buildings to effectively be abused in this manner. It's also a criminal offence."
He continued: "Although we've not prosecuted previously as such stunts are usually over quickly, we do feel now that enough is enough and we're considering legal action."
'Prepared and ready'
Cricket Australia could not be contacted.
But in the aftermath of Wednesday night's stunt, captain Ricky Ponting said: "Winning the urn back from our age-old rival is the most prized achievement for Australians.
"We just wanted to send them a reminder not to leave the urn behind.
"Our message is clear - we're prepared and we're ready so bring on the Ashes!"
A £2,500 fine may be payable for breaching the Town and Country Planning Act.
It is not the first time Big Ben has had an unexpected addition. In 1999 a naked image of television presenter Gail Porter was projected on to it.
England fly to Australia on Friday.
After three recent Australian Test losses, England are rated above the Australian side for first time since the rankings began.