£10m donation to National Theatre from Lloyd Dorfman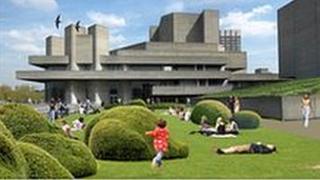 The founder of Travelex Lloyd Dorfman has donated £10m to the National Theatre.
The National will now rename the Cottesloe Theatre after their benefactor, whose gift will kickstart the £70m redevelopment of the Grade-II listed building.
Hayden Phillips, the National's chairman, described the donation as a "supremely generous gift".
The money he hoped would act as an "inspiration to other philanthropists".
Mr Dorfman described himself as a "huge fan of the energy and innovation the National has achieved in recent years".
He said he was delighted "to lead from the front in supporting its redevelopment".
'Faith in the arts'
The theatre hopes some of the rebuild will be completed by 2013 but a spokeswoman could not say when the project would be finished.
It had hoped to raise £50m from the private sector and £20m from other sources like the the National Lottery.
The design, by architects Haworth Tompkins, includes plans to refurbish the theatre on all sides, drawing more people in with green spaces and gardens.
The building will also feature a new education centre, allowing an extra 50,000 people a year to engage in learning and training activities at the theatre.
Mr Phillips said the donation was the largest ever made to the National Theatre.
"I hope it will also act as a spur and inspiration to other philanthropists, as a powerful demonstration of faith in the performing arts," he added.
First opened in March 1977, the Cottesloe is the smallest of the National's three auditoriums.
It takes its name from Lord Cottesloe, chairman of the South Bank Theatre board and a one-time head of the Arts Council.