Police appeal over east London murder of Wayne Powell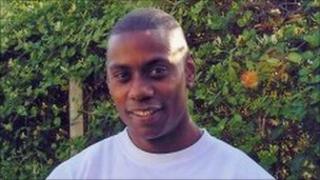 Police investigating the murder of a man in east London are appealing for information and witnesses.
Wayne Powell, 39, was shot several times in Chingford by a lone gunman on 5 July.
But three months on police are yet to solve the crime. They are taking to the streets and approaching members of the public.
Mr Powell's fiancee, Anne Boriel - eight months' pregnant with their child - has spoken of her anguish.
Multiple wounds
She said: "Wayne was tragically stolen from us. There are not enough words that could express the pain, anguish, grief and sorrow we are going through.
"He had so much to live for and now someone has robbed me and my children of a future.
"Please, if anyone knows anything, do the right thing and go to the police."
Police were called at 2314 BST to reports of a man collapsed in Higham Station Avenue.
Mr Powell, from north London, was found with multiple gunshot wounds.
It is believed he was in his black BMW when a lone gunman approached.
Mr Powell got out of the car and tried to run away, but the suspect shot him.
Det Ch Insp John Crossley said: "We are looking for a lone gunman who was wearing dark clothing.
"The suspect is believed to have left the scene of the shooting along a footpath and I would implore anyone who believes they have information to speak to police."
A 29-year-old man arrested on 12 July has been bailed until later in October.