BA flight to New York in emergency landing at Heathrow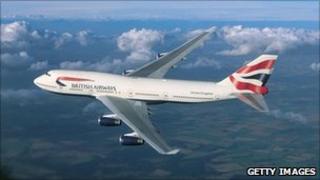 A British Airways jumbo jet with 296 people on board had to make an emergency landing shortly after taking off from Heathrow airport.
The Boeing 747, destined for New York, was over London at 0920 BST when it was noticed a handle on a cabin door was moving.
Wimbledon residents reported a low-flying aircraft as the jet turned and headed back to Heathrow.
The flight, BA117, landed safely at the west London airport.
In total the plane was airborne for 11 minutes.
Passengers were being put on another flight thought to be departing at 1500 BST.
Hannah Evershed was on board. She said: "It wasn't fun. I fly a lot for work and I knew we were flying too low.
"The pilot alerted the cabin crew over the loudspeaker to answer his calls. It all happened quite quickly."
'Smoke under wing'
Ms Evershed added: "Other passengers were quite calm but I was nervous.
"I'm travelling with my fiance and he saw smoke under the wing.
"We're waiting for engineers and hopefully we'll be on another flight this afternoon."
A British Airways spokeswoman said a full investigation was taking place.
She added: "Obviously it takes a bit of time to find another aircraft but we are looking to do that as soon as possible."
Landing 'a precaution'
A statement was released by the carrier following an earlier claim that the alarm was raised because of a flashing warning light.
It said: "Passengers disembarked normally after the aircraft returned to Heathrow shortly after take-off.
"The aircraft landed safely and taxied to the stand.
"It returned to the airport as a precaution because the handle on one of the cabin doors was moving. At no time was the door open."