Police boss who tackled Scotland Yard corruption dies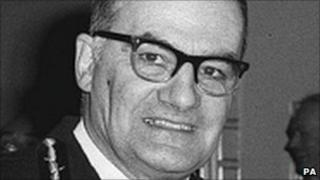 Sir Robert Mark, the former Metropolitan Police Commissioner who famously tackled police corruption, has died aged 93.
Current commissioner Sir Paul Stephenson said Sir Robert was a man of the highest integrity and remained a role model to police officers.
Sir Robert's crackdown from 1972 saw 450 Scotland Yard officers leave over disciplinary proceedings.
He pioneered closer media relations and increased debate about policing.
When Sir Robert took over, morale in the force was low.
At one stage Sir Robert, who lived in Esher, Surrey, threatened to put all 3,200 officers in the CID back into uniform and start again from scratch unless they conformed to his standards.
Combating IRA
Born in Manchester the son of a clothing manufacturer, Sir Robert joined the police in 1937.
In 1957 he became the youngest chief constable in Britain when, at the age of 40, he was appointed to Leicester.
His innovations as Met commissioner included intensifying the investigation of complaints from the public. He was particularly successful in combating IRA and other terrorism.
In 1975, Sir Robert won considerable credit for the successful tactics adopted by the police in the Spaghetti House siege in Knightsbridge, where three gunmen eventually surrendered after holding six hostages in a restaurant cellar.
Sir Robert retired on his 60th birthday. He then began lecturing and acted as a security consultant.
He also made a number of television commercials for a famous tyre firm and, for some time, gave all the money he made from them to charity.