'Suicide pact' woman contacted police about harassment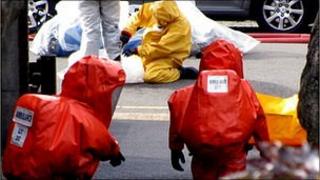 The police watchdog has begun an investigation into the reaction of police to complaints made by a woman involved in a suspected suicide pact.
Two women, aged in their 20s, were found by emergency crews in flat in Putney, south-west London, on Thursday.
The women are thought to have died from chemical poisoning.
The Independent Police Complaints Commission (IPCC) will probe the police's reaction to one of the women's complaints that she was being harassed.
They received a referral from Metropolitan Police (Met) detectives after they found records of her contacting the force on a database, it is understood.
The Met said the deaths were not being treated as suspicious.
Investigators believe the women gassed themselves using a toxic combination of chemicals after sealing doors and windows.
Police said tests had been carried out inside the flat and there was no risk to the public. The bodies are still inside the property.
A police statement said post-mortem tests have yet to take place but "at this early stage it is believed they died of chemical poisoning".
The statement said not all of the women's next of kin had been told about the deaths.
'Smell in the air'
A neighbour spoke of seeing crews being hosed down and one report said the flat had been sealed with tape.
Emergency services were called to Norman Court just after 1030 BST.
Firefighters wearing breathing apparatus were brought in amid fears toxic chemicals were involved and residents were asked to stay indoors.
The block is owned by Women's Pioneer Housing, an organisation that provides affordable one-bedroom and bedsit properties for single women.
Women's Pioneer Housing chief Janet Davies said the deaths were "completely unprecedented".
Christina Barrett, who lives in a neighbouring house, said she saw a "decontamination unit" and an emergency services crew being hosed down.
"There was a smell in the air that caught the back of your throat," she added.
Suzanne Viggers, who lives in the block, said she believed the flat had been rented by one of the women about five months ago.