No agreement on London Underground strike talks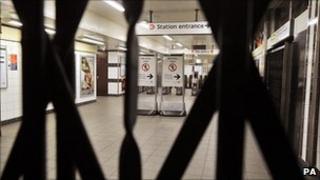 Last-ditch talks aimed at preventing a strike by London Underground (LU) staff have failed to materialise.
Thousands of Tube workers are due to strike for 24 hours from 1900 BST on Sunday.
They are angry about plans to close ticket offices - which Tube bosses say are barely used.
The conciliation service Acas had been trying to establish ground to hold new talks to avert industrial action, with a meeting mooted for Thursday.
But no formal meetings between the Rail Maritime and Transport union (RMT), the Transport Salaried Staffs Association and LU were held.
'Business needs resolution'
An Acas spokesman said: "The conciliation service Acas has been in close contact with London Underground, RMT and TSSA over the past few days to establish whether there is common ground to restart formal talks.
"At the present time, no meetings are planned but Acas continues to be in touch with the parties and remains available to assist them if circumstances change."
The unions have already held one strike in protest at the plans, which would cost 800 jobs.
And business group London First urged both sides to come to an agreement.
Chief executive Baroness Valentine said: "What business really needs is for the dispute to be resolved.
"London's economic success and tens of thousands of jobs, not just those on the Underground, depend on keeping the capital moving."