Police siege command 'confused' as Mark Saunders shot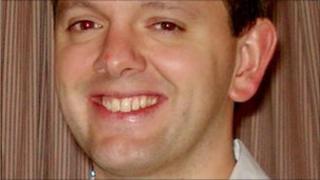 Police command structure was "confused" during a five-hour siege that ended in the killing of a shotgun-wielding lawyer, an inquest has heard.
Mark Saunders, 32, was killed at his flat in Chelsea, west London, in 2008 at the climax of the standoff.
Westminster Coroner's Court has now heard it was not clear who was in charge of the police snipers who would eventually shoot Mr Saunders.
Met Commissioner Sir Paul Stephenson denied there was a problem.
Supt Liz Watson reviewed the command of the operation for the Independent Police Complaints Commission (IPCC).
'Definite confusion'
She found it was not clear who was the "bronze firearms commander", leading the marksmen who had their sights trained on Mr Saunders.
Supt Watson told the court there was "definitely confusion", in addition to police communication issues.
But she added: "My assessment is these did not impact on, and even if rectified could not have avoided, the eventual outcome of the incident, which resulted in the tragic loss of life of Mr Mark Saunders."
The court heard that following the incident the IPCC sent Scotland Yard a letter highlighting improvements it should make.
It read: "It is best to separate the two roles of bronze firearms commander and tactical adviser to provide clarity to each person's role and decision-making capacity, and to ensure one person is not put under pressure by performing both roles simultaneously."
Following the IPCC's suggestions Sir Paul Stephenson said in a letter then read to court: "The comments within the recommendation reflect Metropolitan Police Service procedure and the roles were separated at this incident.
"It is unfortunate that due to a misunderstanding this was not apparent to Superintendent Wise [who had been in overall command] at the time."
Shot in head and neck
But Supt Watson responded: "The Commissioner has obviously not had the benefit of listening to the evidence of this court."
Mr Saunders, who had been drinking heavily, died after police bullets were fired at the end of a five-hour stand-off.
He was shot multiple times in the head and neck after appearing to level his gun at officers.
Police marksmen were carrying more than 100 guns at the time.
The inquest continues.